#expeditioncruising .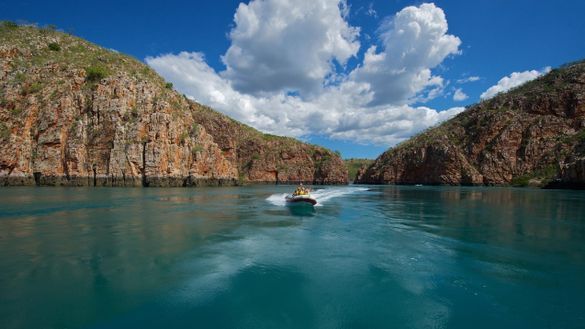 Coral Expeditions, Australia's pioneering cruise line, has released a new brochure for their 2019 Kimberley and Cape York & Arnhem Land sailings with the inclusion of their latest fleet addition, the Coral Adventurer.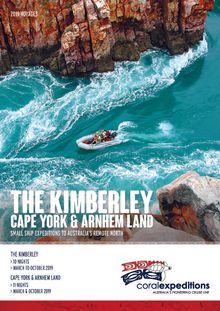 click to view online
The new look brochure, with fresh photography and layout, introduces the company's Expedition Leaders and Guest Lecturers and includes detailed descriptions of Coral Expedition's inimitable 'Expedition Experience'. Local interaction and cultural exchange are the anchors of Coral Expedition's itineraries and one of the great benefits of small ship cruising.
This will be the first time the company's newbuild and fourth vessel, the Coral Adventurer, will cruise the remote and ancient areas of Northern Australia, showcasing its expedition capabilities and bringing guests to some of the most pristine regions of the country inaccessible to larger vessels. Raising the bar for coastal expedition cruising, the state-of-the-art small ship, holding 120 passengers, is backed by over 35 years of knowledge and passion for expedition cruising and is built with the latest shipbuilding technology.
The 2019 Kimberley season will mark 23 years of expedition cruising in this region, having pioneered the Kimberley region since 1996. For the past 10 years, Coral Expeditions have operated two ships for an extended six-month season in the Kimberley, taking over 25,000 guests through the region. As Australian flagged ships, Coral Expeditions has a unique advantage in that their ships can operate within the Kimberley without any restrictions and know this region better than most.
Leading daily expeditions on their unique Xplorer tender and Zodiac vessels, guests are guided through these untamed regions by known experts that includes specialised guest lecturers with deep knowledge and expertise of geology, history and ecology. The expedition team is supported by highly-skilled staff who offer a superb service and great onboard atmosphere. This combination of marine expertise and interpretive content make Coral Expeditions the pre-eminent operator in both regions.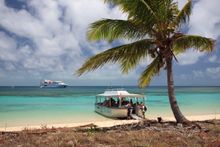 10-night Kimberley sailing highlights:
Witness the tidal phenomenon of the Horizontal Waterfalls
Marvel at the 80m high King George Falls
Sacred Gwion Gwion and Wandjina rock art
The Montgomery Reef's falling tides
Possible wildlife sightings featuring humpback whales, green and sea turtles, crocodiles and rock wallabies
Optional scenic helicopter flight over the Mitchell Falls
The Cape York & Arnhem Land itineraries incorporate Coral Expeditions signature Great Barrier Reef experiences, established over 35 years ago.
11-night Cape York & Arnhem Land sailing highlights:
Bathurst Island and the vibrant culture of the Tiwi people
The Coburg Peninsula and its vast diversity of wildlife
Elcho Island and Maningrida art centres
Cape York for a champagne sunrise
Snorkelling the Great Barrier's Reef pristine sites
Thursday Island and the Torres Strait Islands
Remaining true to their small ship expedition origins, Coral Expeditions will continue to offer the choice between the classic Coral Expeditions 1, holding just 44 passengers, and the recently refurbished Coral Discoverer which caters for 72 passengers, in addition to the custom-built Coral Adventurer. The three expedition ships have been specifically built with Australian coastal cruising in mind and are ideal to safely navigate the mighty rivers and scenic inlets of the Kimberley and Arnhem Land.
The 10 and 11-night itineraries depart between March to October 2019. Cape York sailings depart from Cairns on 17 March and 14 April 2019 and from Darwin on 4 & 18 October 2019. The Kimberley itineraries run between Darwin and Broome (v.v) on regular sailings from 29 March until 7 October. Prices start from $8,690 per person.
For more information on this itinerary and to see the new brochure please visit:
https://issuu.com/coralexpeditions/docs/kimberley_2019_-_final_email
To book or for more information, call 1800 079 545 or visit
www.coralexpeditions.com
.