#expeditioncruising .
The Greg Mortimer at anchor in Montevideo (Merco Press)
Media Statement relating to the Greg Mortimer
3 April 2020
Yesterday we formally escalated our request to the Uruguayan Ministry of Health to allow us to bring the Greg Mortimer dockside, and urgently map a path to get all passengers and staff, back to their home countries.
We thank them for their support and understanding during this process. We also are grateful for the assistance of DFAT and other relevant embassies for the extraordinary help and support they continue to provide.
All are focused on one goal, and that is to safely disembark passengers and staff, and return them to their home countries in a safe and measured manner.
Our passenger who tested positive to COVID-19 is currently in a stable but critical condition in ICU at a hospital in Uruguay. We further thank the local authorities and hospital staff for the great care they are providing to this passenger.
-----------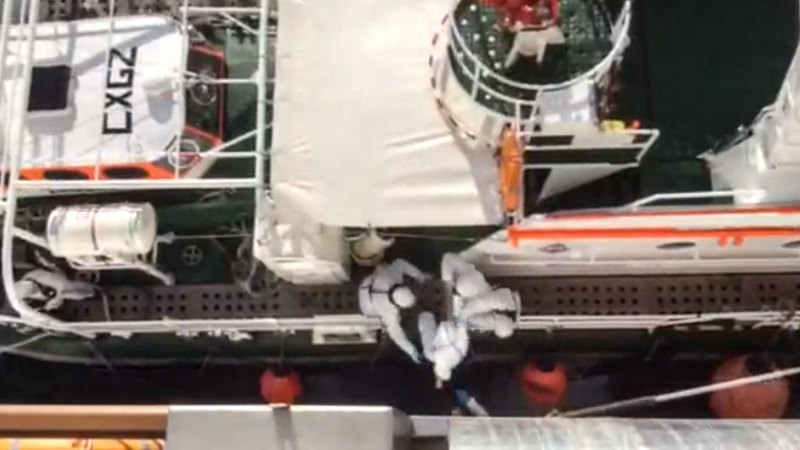 -----------
Below is the key information we have provided to our passengers onboard on the evening of 2 April local time in a letter from Managing Director, Robert Halfpenny.
This has also been shared with their family and friends.
"I would like to thank everybody for their great cooperation and understanding of the importance of isolation and quarantine. Everybody's perseverance and adherence to the protocols has resulted in 3 people with fever. So, we ask that you continue to follow the isolation requirements as this supports our disembarkation process.
"Our ill passenger in hospital ashore is still in a critical condition but is stable and is receiving the very best care possible care in Montevideo - once again, we would like to thank the Uruguayan government for their great assistance and the amazing medical personnel at this hospital."
"While there is some way to go yet, all the work being done by our embassies, authorities and the Uruguayan Government is meaningful, and everyone is fully engaged with the ultimate aim of getting everyone home.
The next step in the process is the testing. As you now know testing is due to take place tomorrow morning after being postponed due to inclement weather conditions today. A team supplied by the Uruguayan lab and supported by the Uruguayan Ministry of Health will arrive on board to undertake the testing."
Regarding onboard medical support, at this stage we have medical resources on the ship and do not require further support. In regard to our earlier question inviting medical passengers on board, this was simply to understand options available based on different scenarios for forward planning purposes.
To be clear: no passengers are required at this time. We are working with onshore assistance.
"The counselling team have set a Facebook group where they are posting videos to help cope with stress at this time and we encourage you and your family/friends to join this group if you would like.
"Thank you again to the Uruguayan government to support us in the testing of passengers tomorrow and to DFAT and the embassies for everything they are doing to bring you home. We will keep you updated, as always, when we know more."