#expeditioncruising .

The massive
Hunter River
, as well as the nearby Roe feeds into Prince Frederick Harbour along with inflow from numerous smaller creeks and rivulets. It's an expedition cruise hotspot and today we're here in the company of APT's
Caledonian Sky
, running Zodiac tours into the wild heart of this remote region.
Named in 1820 by the explorer
Philip Parker King
whilst conducting surveys aboard
Mermaid
after the ship's surgeon, James Hunter. Clearly King had a great deal of respect for his surgeons as several key landmarks are named for them, including Montgomery Reef.
Yirinni, as the Hunter River is known to the indigenous
Wunambal Gaambera
people, is best known for its rich Mangrove habitat and a perfect location to spot the dominant carnivore, the
saltwater crocodile
(
Crocodylus porosus
). In fact, so numerous were these ferocious reptiles, that King named one of the major inlets, Porosus Creek, in honour of the hungry guardians of this realm.
Yirinni is protected by Marriawalu. The two striking stone formations at the river mouth: Wunggurr (snake) to the east and Aamba (kangaroo) to the west, represent the fate of two men who challenged the power of Gillinggi (Wunggu).
Most times, the Zodiacs would venture up the Porosus as the easiest point of access, but today our expedition leader,
Mick Fogg
, decreed that we would extend our explorations as far as we could along the main waterway. This exercise, as it turned out, was a well-considered plan.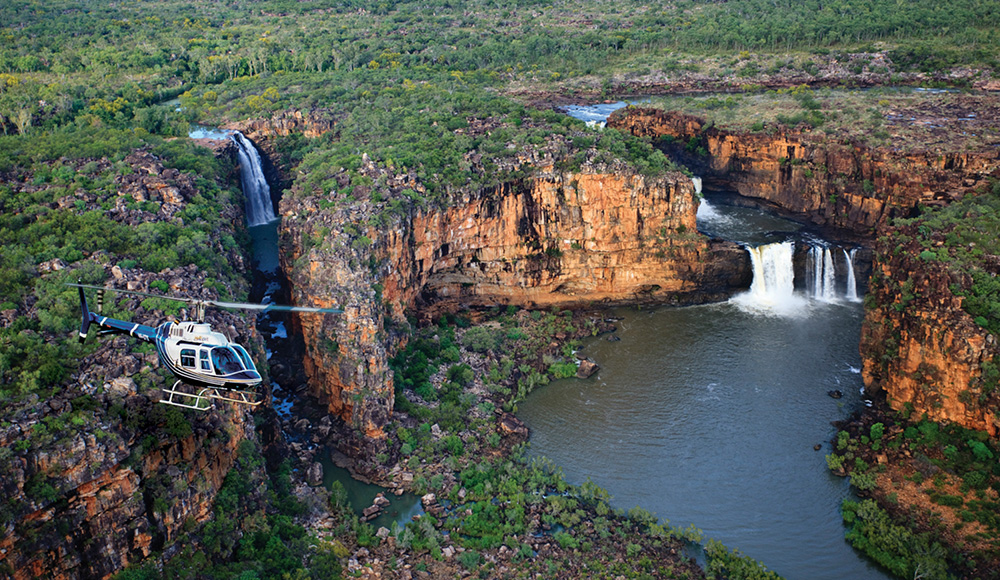 Helispirit chopper above Mitchell Falls (Helispirit)
It's also the jumping off point for helicopter flightseeing to the iconic Mitchell Falls on the nearby plateau of the same name. Yes, it is these fabulous multi-tiered cascades that feature in so many Australian travel brochures and television commercials.
Mick Fogg with guests on the Hunter River (RE)
A doyen among expedition leaders, Mick has been leading explorations in the Kimberley for more than a decade while contracted to several companies. With Ponant, he has found his sweet spot.
"Apart from the resources of a company the size of Ponant, we now have the use of some of the world's most advanced expedition vessels," Mick tells me, "that and the fact that we ensure a 'fair trading' philosophy with all of our suppliers makes it a great overall operation."
We spend almost three hours winding our way past the towering ancient sandstone precipices that adorn this prehistoric river, spotting numerous crocodiles, waterbirds and curious fish such as the comical mudskippers. Tint vivid red crabs festoon the muddy rocks, darting for cover as we approach, cameras poised.
Le Laperouse at anchor in Prince Frederick Harbour (RE)
As we pull in to the state-of-the-art retractable marina at the stern of
Le Laperouse
, a wave of exhilaration sweeps the half-dozen of us aboard. While only a few hours in duration, we have experienced the true essence of exploration amongst a wild and prehistoric landscape unchanged for millions of years.
For more information about the full catalogue of Ponant expeditions, see
www.ponant.com