#expeditioncruising
Small ship cruise expert
AdventureSmith Explorations
has added the truly unique, 24-guest luxury yacht
Island Passage
to its portfolio. From May through October it will conduct eight- and eleven-day roundtrip cruises on this yacht through one of the world's most romantic stretches of water.
"Traditionally cruises on these waters are aboard much larger vessels accommodating from 120 guests and up," said Todd Smith,
AdventureSmith Explorations
' visionary founder and president. "In stark contrast, the new
Tahitian Affair
that begins and ends in Bora Bora offers unparalleled intimacy in a relaxing, lagoon-cruising style highly suited to this environment."
The per person rate, from $4,540 for an 8-day cruise, includes on-board accommodation, meals, all non-alcoholic drinks during cruise, wine with dinner, shore-excursions as per the itinerary, use of kayaks, tenders, snorkel and fishing equipment carried onboard, and an airport ferry transfer. An alternate 11-day itinerary is also offered starting at $5,845 per person, double.
To celebrate the introduction of this new Tahitian cruise option, AdventureSmith Explorations is offering a special booking promotion; guests can reserve Tahitian Affair cruise by March 31, 2016 and receive a complimentary travel package that covers airport transfers, domestic flights and hotel accommodation in Papeete. The package includes arrival transfer to airport hotel, one night at Intercontinental Resort Papeete (or similar), transfer to airport (or pier for 11-day cruise), and return domestic flights to and from Bora Bora (or from Bora Bora to Papeete for 11-day) for cruise. This offer is valid on new bookings only and is subject to availability.
Island Passage cruises only three to four hours daily on average before laying anchor each evening. This translates to an unhurried pace and ample opportunity for swimming, snorkeling, kayaking and stand-up paddleboarding at will from the motus or small reef islands that only a small vessel can access. Guests may also opt to swim with sting rays and sharks, or to embark on a fishing excursion. The Island Passage's 7.2-meter aluminum fishing boat is equipped with rods, tackle and gear for line (rod/pole) or deep sea angling. The talented chef is always happy to prepare the fish that guests catch.
For additional fees, guests who are scuba-certified can arrange to dive off a dive boat that will pull up alongside Island Passage; and they can sightsee by helicopter as the vessel has a helipad for a six-seat helicopter.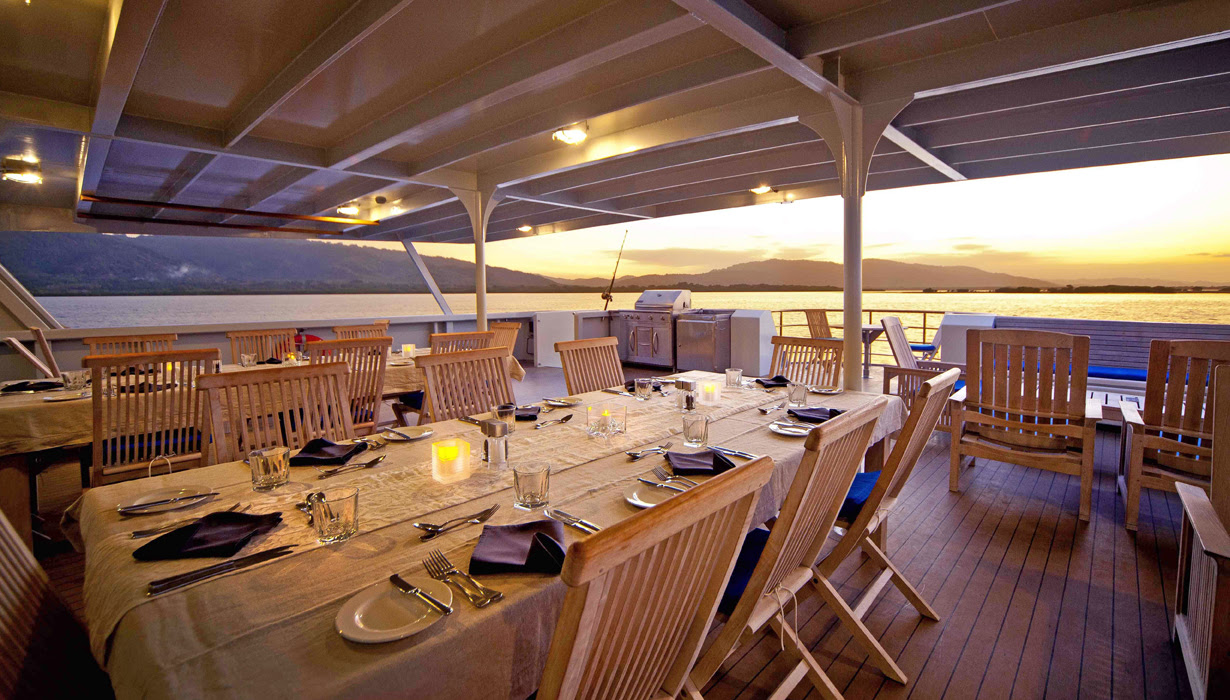 When they can pull themselves out of the turquoise water, guests can tour village life on the islands of Tahaá, Raiatea and Huahine, visit a vanilla plantation, local markets and the Maeva Marae archaeological site. They may also enjoy being the audience for a local choir and learning how to crack coconuts.
While on board they mingle in the generously spaced dining and salon area and on the expansive aft deck. Oversize 175-square-foot staterooms and 195-square-foot and 235-square-foot suites all have ocean views and are appointed with fine linens, French soaps and toiletries, and fresh flowers.
Menus include local seafood and the best New Zealand organic lamb and Santo beef, fresh produce selected from local farmer's markets and award-winning cheeses, all presented with a strong European flair. The onboard wine cellar brims with award-winning wines and is frequently updated with new releases plus the Island Passage's revolving collection that is personally selected from the crew's favorite boutique vineyards.
For a recent blog post about more new offerings in AdventureSmith's upcoming 2016 season please go to:
http://www.adventuresmithexplorations.com/small-ship-cruises-new-2016-tahiti-cuba-new-zealand-costa-rica-amazon-croatia
.
For information on all of AdventureSmith's small ship cruises, itineraries, availability and 2016 reservations, Phone: 800-728-2875 toll-free or visit
http://www.adventuresmithexplorations.com/
.