#expeditioncruising
Vivid Color, Wine Harvests, Oysters and Curated Food Vendors
The spectacle of changing foliage, wine harvests, rare oysters and curated food vendors are bonuses while traveling this fall on Pacific Northwest waterways with small ship cruise expert AdventureSmith Explorations (
http://www.adventuresmithexplorations.com/
).
All of the cruises are accessed through gateway cities in the Pacific Northwest. Two cruises expound on the lore and meanderings of four remarkable rivers, while another cruise explores the beauty of the San Juan Islands and the Olympic rainforest.
"Autumn is a bustling time in the Pacific Northwest, especially along the paths of small ship cruises, which take into account changing colors and local harvests. It's a special time when travelers can actually experience and taste the bounty on board," shares Todd Smith, Founder and President of
AdventureSmith Explorations
. Here are three recommended small ship cruises:
Rivers of Wine - roundtrip from Portland, OR: Washington and Oregon vineyards saw their first picks of sauvignon blanc, chardonnay and pinot gris grapes in mid-August. But here the wine harvest lingers into November, which means that Rivers of Wine cruise departures through the Columbia River Gorge can showcase the behind-the-scenes drama of vine to bottle. Vineyard tours and tastings over eight days are paired with four rivers -- Columbia, Snake, Willamette and Palouse – on this wine-focused itinerary aboard the 88-guest replica steamer S.S. Legacy. All wine, premium spirit and microbrew tastings, and the insights of a guest wine expert, are included in the cruise cost. This region is a hot spot for vintners. In Washington alone there are more than 850 wineries; the Walla Walla appellation boasts nearly 3,000 acres of these planted vineyards. Passengers disembark here on day 3 of the cruise to tour numerous wineries, including the unique Dunham Cellars located in a remodeled World War II era airplane hangar. Sailing from Portland, guests witness the city's famed crimson-red ornamental maples. Portland's Japanese Garden is a riot of color this time of year and a recommended pre- or post-cruise stop. The per person double rate is from $3,695. The last trip this season departs Oct. 29. See:
http://www.adventuresmithexplorations.com/rivers-wine-history-cruise-columbia-snake-river
Columbia & Snake Rivers Journey – sails between Portland, OR & Clarkston, WA: This 7-day cruise operated by the renowned Lindblad Expeditions features National Geographic guides and experts on board and comes with a culinary focus: each meal is harvested from farms along the rivers and through the company's Food Alliance affiliation. Lindblad Expeditions says they are the only Food Alliance Supply Chain Ally in the travel industry, ensuring that the food they serve is produced by well-treated workers; that meat products come from humanely raised animals; and that the regional soil, water and wildlife habitats are protected and enhanced. Some of the region's providers supported on this itinerary include Country Natural Beef, a cooperative of 120 family ranches; Tillamook Cheese, made up of 110 dairy farms committed to animal welfare and dating back to 1909; and Draper Valley Farms, the pioneer of Washington- and Oregon-raised fresh chicken since 1935. Guests will also be able to visit a Hood River family farm where they can sample fresh fruit and see the orchard outfitted with fall colors. Guests also enjoy the spectacle of huckleberry plants painting the hillsides gold, scarlet and orange.
Pairing with the cuisine are local wines representing the various growing areas along the Columbia and Snake rivers as well as regionally brewed beers. Among the many craft brewers, guests will discover two of the region's most notable: Full Sail Brewing and Deschutes Brewery, both committed to socially responsible practices. Wine and craft beer tastings are complimentary during each evening's guide recap and dinner. Additional pours and alcoholic drinks are available at additional cost. The per person double rate is from $4,750. The last trip this season departs Oct. 25. See:
http://www.adventuresmithexplorations.com/columbia-and-snake-rivers-journey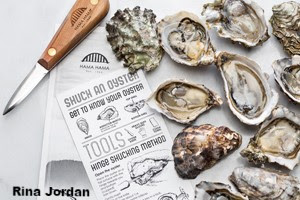 Olympic Wilderness & San Juan Islands - roundtrip from Seattle, WA: This active (paddle boarding, hiking, kayaking) 8-day cruise aboard the 76-guest Wilderness Discoverer explores the Olympic Peninsula, Puget Sound and the San Juan Islands while celebrating harvest season with a particular taste of the sea. On many departures, guests get to visit with the five generation family-run Hama Hama Oyster Farm as it enters its peak September through April season. Located on the Olympic Peninsula, Hama Hama's oyster beds sit at the mouth of one of the shortest, coldest and least developed rivers in Washington, yielding a clean, crisp flavor. Guests sample the farm's classic, beach-grown Hama Hamas and tumble-farmed Blue Pools.
"I think our oysters are a special local treat," says Hama Hama's Lissa James Monberg. "Because our company has been here a long time, we strive to be excellent stewards of the environment and great employers, and we really care about producing a quality product." Lissa or one of her coworkers joins the 76-guestWilderness Discoverer to explain how they farm, discuss oyster flavor with tastings and demonstrate how to shuck like a connoisseur.
In this region ornamental maples and quaking aspens display their fall foliage, but a detour into the Cascade Mountains reveals the gold of big-leaf maples and larch that transforms its needles from green to bright yellow in October. The per person rate is from $1,895. The last trip this season departs Nov. 19. See:
http://www.adventuresmithexplorations.com/san-juan-islands-cruise
For information on all of AdventureSmith's small ship cruises worldwide, itineraries, availability and reservations, Phone:
800-728-2875
toll-free or visit
http://www.adventuresmithexplorations.com/
.