#expeditioncruising
New Itineraries Start at $6,307 and Include Time to Explore Reykjavik and Environs
Arctic fun
Seattle, December 2014 –
Hurtigruten
, the leader in exploring polar regions on its specially designedexpedition ship, the MS Fram, has introduced itineraries aimed at
making it easier
for North American travelers to visit Greenland next summer. While most other operators get guests to Greenland by routing them through a flight to and overnight stay in Copenhagen, Hurtigruten's sailings in the months of June and July 2015 provide access to Greenland via flights through Iceland, reducing travel time;
pricing
for these trips starts at $6,307 per person, double including transport from Iceland to Greenland. Also new in 2015 is the "Experience Iceland" tour in Reykjavik, which gives visitors a three-day glimpse into that capital city and its surroundings either before or after their Greenland expedition; pricing starts at $563 per person and includes two nights at a first-class hotel, breakfast each morning, a full-day Golden Circle excursion with lunch, and an excursion to the Blue Lagoon (including the entrance fee).
There's no better way to explore these remote areas than on a Hurtigruten voyage, during which guests have the opportunity to see Greenland's icebergs calve into the sea, explore fjords, hike the country's beautiful meadows and watch wildlife under the sparkle of the Midnight Sun. In addition, guests have the chance to visit isolated communities to see for themselves how man and nature interact here, with that powerful relationship being reflected in everything from language and music to clothing and food.
On the subject of Midnight Sun, Iceland also provides plenty of opportunities to enjoy the natural phenomena … and an abundance of summertime activities to keep guests busy round the clock. Iceland is the land of volcanoes, glaciers and geysers, plus vast expanses of unspoiled wilderness just minutes away from the capital city of Reykjavik. On the Iceland extensions, visitors spend three days in and around the capital, including a day touring the famed "Golden Circle" and one at the Blue Lagoon.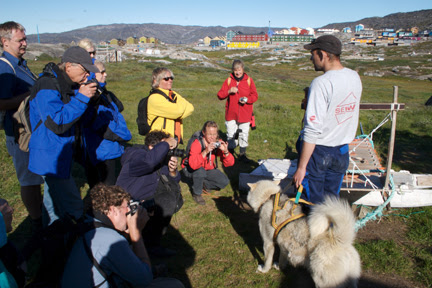 Shore party in Greenland
Hurtigruten's 13-day "Glaciers and Ice" itinerary is offered in both June and July. On this journey, guests visit the southwestern coast of Greenland, which is the largest island on the planet. Highlights include Disko Bay – known for its spectacular icebergs and array of arctic wildlife – and the southern fjords. Excursions include opportunities to hike, kayak or even take a helicopter ride. This voyage also includes fascinating glimpses into the history of Greenland, with emphasis on the country's Viking culture. These itineraries start at $6,309 per person, double for the June 2 departure and $6,307 for the July 3 trip. Meanwhile, the 11- to 14-day "Arctic Wilderness Adventure" itinerary departing on June 23 unlocks the mysteries of Northwest Greenland and visits such ports as Qasigiannguit and Upernavik. Pricing for this trip starts at $7,195; the length of the trip varies, based on whether guests opt for the Iceland extension.
A Hurtigruten explorer voyage goes well beyond a simple cruise that offers some interesting land excursions. The company employs Expedition Team members who are not just expert lecturers, but also official hosts and guides. Many of these experts are residents of the areas being explored, and they offer insight into the biology, history, geology and people of these remote areas. They have lots of information to share, but they're also full of passion and enthusiasm for these special regions. As the escorts of the shore landings and hikes, the Expedition Team helps guests make the most of their visits while teaching them how to avoid disturbing the fragile ecosystems they're exploring.
When it comes to exploring polar waters, nobody can match Hurtigruten, a Norwegian company whose captains are the current generation of professionals immersing themselves in the philosophies and traditions of this type of exploration. The MS Fram is named for the original Norwegian vessel that became the first ship to drift across the Arctic Ocean … and the one that took renowned explorer Roald Amundsen to his starting point in Antarctica as he raced to reach the South Pole. Today's MS Fram drew its inspiration from the originalFram, taking the most advanced technology to create a purpose-builtexpedition ship that focuses on guest comfort and safety. It boasts 127 cabins, many of which are named for polar heroes. The front of the ship is especially designed so guests can observe the marine wildlife and natural phenomena that are in abundance on these voyages.
Hurtigruten sails to the most remote of destinations as well as year-round along Norway's coast and in Europe. The company's fleet of intimate ships, which each carry 100 to 646 guests, allows travelers to enjoy the scenery and culture of the destination in a relaxed atmosphere.
Additional information, brochures and reservations can be obtained from travel agents or Hurtigruten's visitor-friendly website,
www.hurtigruten.com
; by phone at
877-301-3117
; or fax at
888-524-2145
. To order brochures 24 hours a day, call
800-582-0835
.