#expeditioncruising
PONANT announces an exclusive collaboration with the sailor, mountaineer and explorer Jean-Louis Étienne, during unique cruises to the Antarctic Peninsula and the Aleutian Islands.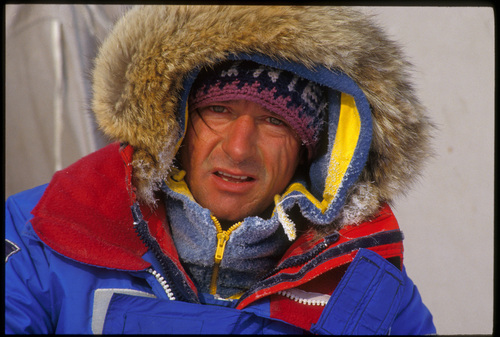 The only French shipowner to sail in the icy regions announces a collaboration with Jean-Louis Étienne, the first man to have reached the North Pole solo and to have made the longest crossing of Antarctica with a dog sled.
The PONANT expedition cruises with Jean-Louis Etienne will allow passengers to benefit from the combined expertise of PONANT and this great explorer on the subject of the ecosystems of the polar regions, notably through a number of conferences aboard ship.
Jean-Louis Etienne has always followed his dreams, forging new routes during expeditions that have become legendary. "I am delighted to work with PONANT and thrilled by the idea of sharing my passion for the Polar regions with guests. PONANT is renowned for its great expertise in polar expeditions, and we share a great respect for these fascinating regions as well as the pioneer spirit that typifies explorers and great sailors" said Jean-Louis Étienne.
"Not only do we share a fascination for the polar regions, but PONANT also shares with Jean-Louis Etienne profound convictions about environmental issues as well as a certain vision of travel, inspired by so-far unexplored destinations," said Jean-Emmanuel Sauvée, CEO of PONANT.
In September 2013, the company notably achieved a successful crossing of the North West Passage, with Le Soléal becoming the first French civilian ship to sail this famous waterway.
Expedition cruises with Jean-Louis Étienne
New Year's Day in the polar regions
An unforgettable expedition cruise to discover the Antarctic Peninsula and its extraordinary wildlife in the magic of the icy wilderness. Outings and shore visits in Zodiac dinghies with an experienced team of naturalist-guides, visits to scientific bases and former whaling stations, an educational experience with respect for the environment.

Discover the cruise
From Ushuaia to Ushuaia
Aboard L'Austral from 30 December 2018 to 9 January 2019 (11 days, 10 nights)
From A$17,390pp in Prestige Stateroom Deck 4 with private balcony. Based on double occupancy and including safety and port taxes.
Volcanoes of the Aleutian Islands NEW itinerary
A fabulous journey between Russia and Alaska, along the Pacific Ring of Fire, will take you to the magnificent Aleutian Islands, close to the most active volcanoes on the planet.
Visit Kiska, an island dominated by a volcano more than 1000 metres high, discover Elfin Cove, a charming fishing port accessible only by boat or seaplane, and enjoy outings and shore visits in Zodiac dinghies, to get close to the wildlife: whales, orcas, seabirds, grizzly bears…
Discover the cruise
From Petropavlovsk (Russia) to Juneau (United States)
Aboard Le Soléal from 24 June to 6 July 2019, (13 days/ 12 nights)
From A$13,680pp in Prestige Stateroom Deck 4 with private balcony. Based on double occupancy and including safety and port taxes.
About Jean-Louis Étienne, Doctor-Explorer
The vocation of Jean-Louis Etienne really started taking shape during his time at medical school: he climbed his first summits in the Alps before preparing his first expedition to the Fitz Roy and its 3,800-metre summit, in Patagonia. That expedition never eventuated, but it changed the course of his life: he met Eric Tabarly during a stopover in Rio on the return flight to France. One year later, he set off with him and a team made up of future great sailors - Titouan Lamazou, Philippe Poupon – on Pen Duick VI, to circumnavigate the globe under sail.
In 1986, he became the first person to reach the North Pole solo, pulling his own sledge for 63 days. Three years later, he set out on a new challenge: The international trans-Antarctica expedition, during which he made the longest crossing of Antarctica using a dogsled, covering some 6,300 km in the company of the American, Will Steger. A number of expeditions followed in quick succession: in 1992, he set off aboard the schooner Antarctica for Patagonia, South Georgia and the Antarctic Peninsula, sailed for three months around the North Pole between 1992 and 1993 to study global warming aboard the Polar Observer, and led a biodiversity inventory on Clipperton Island in the Pacific Ocean.
The air would be the setting for his new challenge in 2008, then in 2010 with a scientific mission to measure the thickness of the Arctic sea ice using a hot air balloon, followed by a 5-day solo crossing of the Arctic Ocean in a Rozière balloon. He has been preparing his next expedition for five years. Entitled Polar Pod, he himself describes it as being a "giant, outsized" project for its sheer scale. The aim? To spend two years exploring the Southern Ocean, this immense terra incognita that borders Antarctica, "one of the least known and most inhospitable areas" of the globe.
INFORMATION & RESERVATIONS
Details of all PONANT expeditions including itineraries, pricing and shore excursion highlights are available at
au.ponant.com
Contact your travel agent, or PONANT on Australia: 1300 737 178 or + 612 8459 5000 / New Zealand: 0800 44 32 62, or email
reservations.aus@ponant.com
for bookings.