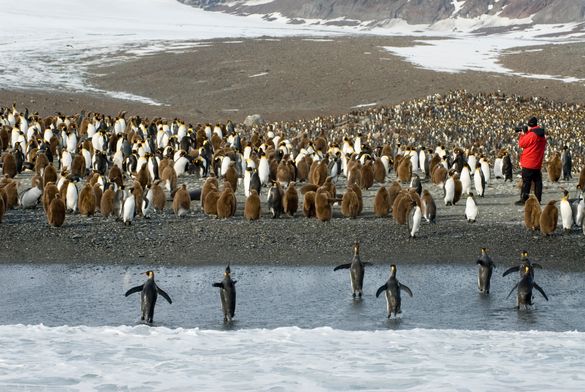 #expeditioncruising .
Zegrahm Expeditions
, a leader in small-ship cruising and wildlife adventures, is celebrating its 30th anniversary with four anniversary voyages to Antarctica, the Seychelles, Iceland and Melanesia along with an opportunity for one lucky explorer to win a spot on their choice of cruises in 2020. In addition to mingling with company founders and the current president on select departures, guests on the anniversary voyages participate in special onboard celebrations, enjoy locally sourced treats and souvenirs, and receive exclusive commemorative gifts.
Zegrahm has been exploring the "Great White Continent" of Antarctica since 1992. The January 4, 2020
Antarctica, South Georgia and the Falkland Islands cruise
has been timed for the height of austral summer, the best time to see penguins tending to their chicks and the long days are perfect for extended exploration. Only 100 guests are allowed at any one landing site at any time; making the Island Sky the ideal vessel for an Antarctic expedition and allowing Zegrahm to offer more landings than any other operator (conditions permitting) so travelers can mingle with penguins, search for seabirds, and revel in the stunning scenery. Guests discover huge penguin colonies of South Georgia Island, the beautiful Falkland Islands, and Shackleton's Elephant Island. Pricing for the 22-day journey starts at $23,480.
On Zegrahm's 16-day
Ultimate Seychelles with Aldabra Atoll
expedition, guests enjoy stunning beaches, cerulean waters, coral reefs and a host of rare endemic species. Boasting more than 800 species of rainbow-hued fish, guests enjoy world-class snorkeling and diving. A hallmark of this voyage is spending two full days at Aldabra Atoll, home to the Aldabra giant tortoise and Aldabra white-throated rail. At Praslin Island, dive sites include granite boulders, coral gardens, sloping reefs and vertical walls. Large marine life includes giant and brown-marbled groupers, stingrays, Napoleon wrasse, green and hawksbill sea turtles, gray reef sharks, and white-tip reef sharks. Travelers relax aboard the luxurious
Le Bougainville
, and Zegrahm is limiting capacity to just 135 guests to ensure an intimate adventure. Pricing for the February 14, 2020 departure starts at $11,980.
Zegrahm's 2020 expedition will mark the brand's sixth full circumnavigation of Iceland, one of the world's hottest destinations. Guests on the 13-day
Circumnavigation of Iceland cruise
step ashore in remote areas only accessible by small ships, soak in dramatic scenery along the rugged coastline, and embark on numerous Zodiac cruises in search of wildlife. Accompanied by an expedition team that includes two archaeologists, travelers delve into the island's Viking legacy, while local lecturers provide insight into daily life in the colorful fishing villages. Once more, Zegrahm is limiting group size to just 135 guests on the luxurious
Le Bellot
to maximize guest experience. Hosting the 2020 departure will be Zegrahm President Van Perry. Pricing for the Iceland cruise departing June 10, 2020 starts at $10,980.
Accompanied by two of the company's original founders, on Zegrahm's 18-day award-winning
Melanesia, Solomon Islands & Vanuatu
expedition, guests enjoy world-class snorkeling and diving. In the Solomon Islands, divers may get to see everything from nudibranchs and pygmy seahorses to clownfish and cuttlefish. Some lucky divers may even spot reef sharks, Napoleon wrasse and schools of manta rays. In Vanuatu, travelers slip into the water to spot bright corals, historic wreck sites and a healthy population of marine life including rays, triggerfish, octopi and more—and possibly a rare and endangered dugong. When not enjoying water activities, travelers relax aboard the 100-passenger
Island Sky
. Pricing for the September 10, 2020 departure starts at $14,480.
As part of the anniversary celebration. Zegrahm is also sponsoring the
Ultimate Expedition Giveaway
, where participants can win air and travel credits, conservation and adventure-themed gift bags, or a cabin aboard one of the anniversary departures.
For more information about Zegrahm Expeditions, please visit
www.zegrahm.com
or call 1-800-628-8747.